By Raajeev Aggerwhil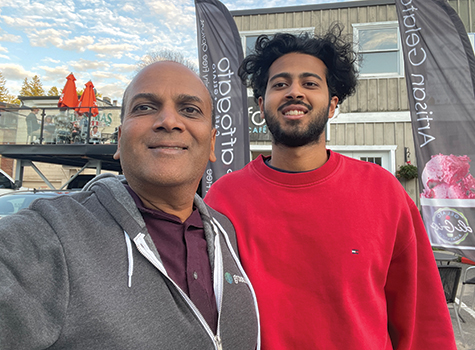 I have been living in Los Angeles for over ten years now. Before moving here, we lived in Fairfax Virginia, a suburb of Washington DC. I had moved there in the late 90's to help my company do business with the federal government. The population in the DC area at that time was much more homogenous and predominantly white. Soon after moving there, I realized that I was not very comfortable around 70+ old white men who were mainly my customers. If any of them were in a military uniform, my nervousness would get worse. I think it was because I was used to a much more diverse population in the San Francisco Bay Area where I had lived for many years prior to moving.
To confront my fear head-on, I decided to join a Toastmasters group that would meet in the Pentagon every week. Toastmasters is an International non-profit organization that helps its members become better public speakers. The idea of going to the Pentagon and giving speeches in front of other club members, many of them in military uniform, took the fear away by force. Within six months, they made me the president of the club. As I became more comfortable, I found that my humor would come out in my prepared and impromptu speeches. I would even make fun of them. "Before coming here, my impression of you guys in military uniforms was shaped by Hollywood movies that portrayed you to be lazy, incompetent maniacs with big egos. And its amazing how Hollywood could be so right!" Laughing together over jokes like these took away my discomfort and nervousness and made me a more confident speaker. It also helped me transform to a stand-up comic.
After 9/11, it became much more difficult for visitors to go to the Pentagon. South Asian visitors were still welcome, but I used the excuse of longer delays at the visitor center to not renew my membership. Also, our youngest baby boy was born four days after 9/11 and that made things at home very hectic. Along with my friends, I had planned a surprise last-minute baby shower for my wife on September 11. We were living in a predominantly white neighborhood of Fairfax Station. Although it was close to a Hindu temple, there were very few minority families. As the horrific details of 9/11 started unfolding, we began to deal with logistical issues like how we would get food from DC to Virginia. The Indian restaurant we had used for catering was in DC. Even if we planned for an alternate last-minute caterer, I wondered how our neighbors would perceive a bunch of Indian people dressed to celebrate in sherwani's, saris and salwar kameez's, dancing to the tune of Bollywood music, as the nation faced the worst terrorist attack. There was only one thing we could do. Cancel the baby shower.
Our youngest was born four days after that on September 15. I remember going to the hospital with a couple of my Sikh friends wearing turbans and another friend with a beard. After getting on the elevator, the door opened on the second floor, and we saw an older white lady. As soon as she saw us, her face turned even whiter with fear. She walked into the elevator with a bit of hesitation. I guess it would have been awkward and impolite for her to not walk into the elevator with four brown men. In the elevator, you could sense her fear. The few seconds that followed until she got to her floor felt like an eternity. As she was walking out, the playful side in me wanted to make a funny cackling sound but decided against it. I am sure we would have had a good laugh, but she could have had a heart attack on the spot!
After my wife and my youngest son Neil came home, our next-door neighbor, Martha, an older white lady, brought some baby clothes for my son. She told us how lucky she was to survive the attack on the Pentagon. She lost several of her colleagues because the impact of the plane was in the section of the building where her department was located.
The next day, I saw her husband, a retired military colonel, who was a senior executive at the NRA. He and I were on cordial terms because I had helped clear snow on his driveway a few times. I never discussed politics or his work at the NRA with him. I offered my condolences and his eyes swelled with tears. I could see how relieved he was that his wife did not perish in the same building where I first gave my Toastmasters speech. At that moment, we were united over our common grief and connected with our bond of humanity.
Over a period of several years, the Virginia, DC and Maryland population became a lot more diverse. I still prefer Southern California, not only because of its diversity but also the weather. I belong to a couple of Toastmasters clubs where I have often shared my Washington stories, how my youngest son was born four days after such a violent and chaotic day that transformed the world forever. He turns 21 in September. When I look at him, I see a confident, polite, and grounded young Indian American man who has close friends from all the major ethnic groups. He has been able to integrate the goodness of Indian and American cultures and values. So, from the point of view of my son's eyes, I am grateful our country has become a better place than the days when he was born. We have embraced our similarities and grown stronger just like my neighbor and I did standing on that driveway. Today, I walk into an elevator filled with people from all over with no fear and no need to cackle to break the tension.
---
Raajeev Aggerwhil is a Los Angeles-based comedian. Follow him on Instagram @raajeevcomedy. Search for him on YouTube.