By Raajeev Aggerwhil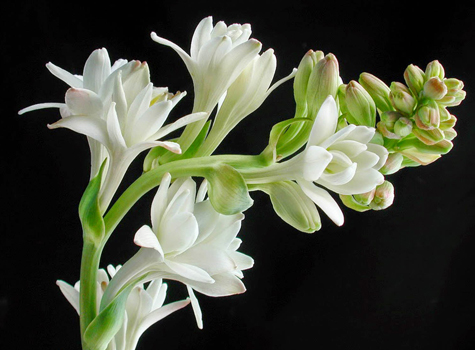 Last month, when my wife and I were returning from Goa to the US, we decided to take a one-day stopover in Mumbai so we could do some shopping. A one-day break would also prepare us for the long trip back to the States. The problem was that our flight into Mumbai would arrive just past midnight on Sunday and our outbound flight to the States was at 2am on Monday morning. By the time we would arrive at the hotel in Mumbai and leave for the airport, we would have only 18 hours. However, as an experienced traveler, I knew that most hotels charge by the rules of check-in and check-out times. According to the hotel rules, our 18-hour stay spanned over two days so it meant we would have to pay for two nights.
I wanted to stay at a really nice hotel but paying $500 for a two day stay seemed like a waste of money. Also, the problem was that some of the luxury hotels would have an elaborate breakfast with over 200 items covering a dozen cuisines. On the surface, it seems like an added benefit, but it was a problem for us because all the hotels stopped serving breakfast at 10am. As my wife pointed out, after sleeping at 3am, we didn't want to be under pressure of missing out on the gastronomic feast. We would also miss the second day breakfast because we would end up dining on the airline meals served on 1 foot by 6 inches plastic trays. No, the exorbitant price and the guilt of not utilizing the culinary privilege called for selecting a 3-star, reasonably priced hotel.
I made one last attempt to book a 4-star hotel in an acceptable price range. During my search to find reasonable deals, I found a direct contact for Lemon Tree. I had stayed at the Hotel Lemon Tree in Bangalore a few years ago and was happy with their quality. When I called the gentleman, he was friendly. I explained my dilemma of an 18-hour stay spanning over two hotel days. He assured me that he could accommodate us on a one-day reservation and sent me three different options of hotel rooms with pictures on WhatsApp. Since I consider myself luxuriously frugal, I chose the $125 a day deluxe package. It also came with a free airport pick up and drop off. I was happy to have found an amazing deal and for the next two days, I continued to marvel at my astute bargaining skills. On the day prior to leaving Goa, the gentleman from Lemon Tree asked me to send money via Net Banking to Lemon Tree's bank account. He sent me the account number via WhatsApp.
I offered to pay by credit card, but he said the discounted rate only applied if I paid electronically. I may be frugal, but I am not a sucker. I called my banker at the same bank, and he confirmed that the account number did not belong to a hotel but to an individual. I also called Lemon Tree hotel's front desk in Mumbai, and they confirmed that they did not have an account with that bank. I then told the individual that he was a fraud and blocked him on WhatsApp. Since the best rate Lemon Tree was offering for my 2-day stay was $400, I decide to get a 3-star hotel using Priceline.
The hotel we found near Andheri West was around $50 a night, so it didn't pinch if we would pay for two days. They had excellent reviews about the staff being very friendly and helpful. I was aware from prior experience that the hotel ratings in India are inflated so a 3-star hotel in India would be equivalent to a 2-star hotel in the US. I was wrong. We checked into the hotel late Saturday night. The hotel was decent from outside and the rooms were decent, with clean sheets and towels. The air conditioning was working, and they had hot and cold water coming out of a proper shower. There was no need for a bucket and a mug. The rooms were extremely small, less than ½ the size of a regular room.
Maybe I have lived in the US for too long, so I take many comforts for granted. This was a 1-star hotel at best. Motel 6 is far better than a hotel like this. However, as the Priceline reviews indicated that the staff were very friendly and that made up for mediocre amenities. We were happy because the primary purpose of our Mumbai trip was shopping and repacking our stuff for our trip to back.
The next day we got an Uber and headed to Linking Road and Khar for shopping. On the way back, as our car stopped at the traffic light near Juhu, my wife pointed out to Amitabh Bachchan's bungalow. The driver mentioned that he gives darshan every Sunday morning. Right then, we saw a white Mercedes S550 pull into the driveway. I wondered if my favorite Bollywood icon was in the car with his family. I thought about the remarkable comeback he had made in the movie Mohabbatein. I told my son how a little over 20 years ago the Bollywood superstar was on the verge of bankruptcy after the failure of his company and he pleaded with Yash Raj Chopra for a job. He, because of his tremendous talent, creativity and persistence had defied age and changed the Bollywood industry.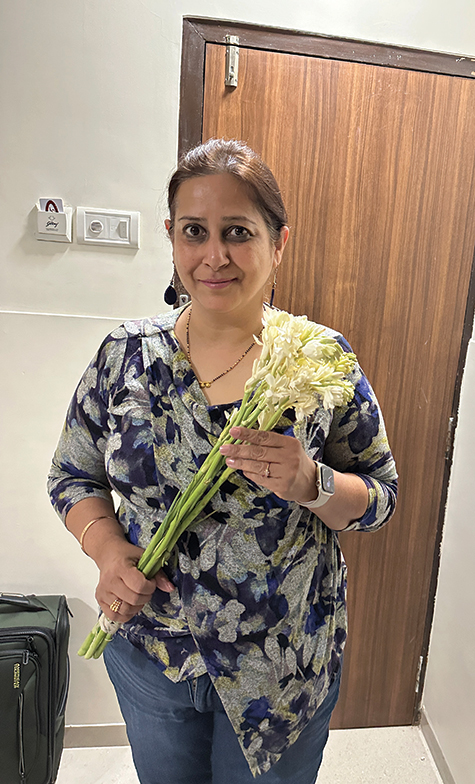 Right then, we heard a knock on the door of the car. A street merchant was selling a bunch of tube roses. My wife, out of curiosity, asked him how much. He said 250 rupees. Tube roses are my wife's favorite flowers. I've been married long enough to know that. However, I knew we would have only two hours to savor the smell of the flowers in our room before we headed out to the airport. I diffidently asked my wife if she wanted it. She said, "Nahin… koi point nahin hai. No, there is no point." The seller must have sensed some confusion and he repeated his offer a couple of times. My wife kept saying, "No." Then all of a sudden, he yelled, "Chalo. 100 Rupees. 100 Rupees." That was too good to be true. My wife said, "Suno. Koi jarorat nahin. Bekar jayenge. Listen. There is no point. They'll go to waste."
At that point, I made an executive decision and gestured to him that I wanted to buy them, but the traffic light turned green. The poor merchant signaled that he would make good on the sale. As we passed Amitabh Bachchan's house on the right, we saw the 30-something aged merchant run alongside our car on the left. He ran and ran. On our urging, the driver slowed down a bit, but he had to keep going as there was no immediate place to stop. The young entrepreneur kept following. He had to make the sale. Within a few seconds after we stopped, he came and handed the fragrant Rajnigandha flowers. I handed him the 100-rupee bill I had in my palm and we left.
Later in my car, I regretted I should have given him more. He earned it. There is no social security system, no unemployment benefits, and no government subsidies. I pointed out to my son how hunger adds clarity in life. It motivates us. It drives us to excel. I wanted to remind him how privileged he and his brothers were to live a comfortable life in the US but decided against it. I am aware that our younger generation has its own set of problems, be it related to social media, peer pressure or finding meaningful work that also pays well.
Back in our 1-star hotel room, we had to squeeze all the items from our shopping bags into our suitcases, so we started unpacking and repacking. In the cramped quarters, it was challenging to find space to move between the three of us and all our luggage. As we packed one suitcase, we had to move to a different corner to start on a new suitcase.
When we were about to leave, I wrote a thank you note for the cleaning staff, like I always do when checking out of a hotel room. However, instead of $5, I tucked Rs. 200 under the vase that also held the Rajnigandha flowers. On the plane, when I was ignoring the instructions of the flight attendant on how to fasten seatbelts, I looked out onto the dimly lit shanty towns next to Chattrapati Shivaji airport, supposedly the largest in Asia. I thought about the hungry flower vendor who made the sale. Perhaps, he lived here. I thought about the hotel workers in Andheri West who were so eager to help me with my luggage for a small tip. Perhaps they lived here. I thought about the con artist who tried to swindle 10,000 rupees from me. He surely didn't live here. There are enough suckers in the world. I thought about Gully Boy, the Bollywood movie that was India's submission for the Oscars three years ago and was filmed here.
Then I thought about Amitabh Bachchan and his bungalow in Juhu, Shahrukh Khan's bungalow in Khar and the one billion dollars building of Mukesh Ambani overlooking the slums of Mumbai. As I scrolled through the selection of Hollywood and Hindi movies offered in the in-flight entertainment system, I imagined that all these people were a part of a Bollywood musical, performing on the individual floors of a giant Maslow's Pyramid, dancing to the beats apropos to their needs at that point in time.
On this trip to Mumbai, I stayed in a 1-star hotel for two nights and juggled the needs of packing all my purchases into suitcases in cramped quarters. But on a different night I had been privileged enough to treat my whole family to a luxurious stay at the Luxor, shaped like a Pyramid in Las Vegas, where we felt like Bollywood royalty ourselves. I guess somedays I get to be at the top of the Pyramid and somedays I'm on the bottom. And the key is to find happiness in both!
---
Raajeev Aggerwhil is a Los Angeles-based comedian. Follow him on Instagram @raajeevcomedy. To see his videos on YouTube, search for his name.