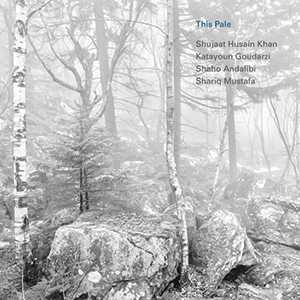 Shujaat Husain Khan ft. Katayoun Goudarzi
This Pale
(Lycopod Records)
Iranian American vocalist Katayoun Goudarzi and Indian sitarist and composer Shujaat Husain Khan have recorded a lovely and haunting new album with the poems of Rumi as lyrics. Their effort, This Pale, gives a musical backdrop to the works of Persian poet and Sufi mystic Rumi, who was an advocate of love and tolerance. The ancient connections of Persian and Indian music meld organically here. You don't have to understand the words to get a feel of the wisdom and the emotions, especially listening to this while reading some or Rumi's works. Gourdarzi's voice takes command of a particular piece or flutters around the music in other pieces.
The diverse group of musicians in this recording also include Iranian Ney player Shaho Andalibi, and 5th-generation Indian tabla player of the Thirakwa lineage Shariq Mustafa.
Rumi, who lived and composed his works over 800 years ago, has been the biggest selling poet in the United States for two decades.
Goudarzi reflects, "All those basic human emotions that are fundamentally universal in nature and connect us, regardless of race or country of origin, are there. Beyond its surface beauty, it also carries a lot of messages about what he really stood for. He was actually greatly loved for his stance on tolerance and certain other things that are worth paying special attention to at this crucial time in our society."
---
Samir Shukla is the editor of Saathee magazine. Contact – [email protected]