By Taige Shukla
Instagram: @whatsthe_chai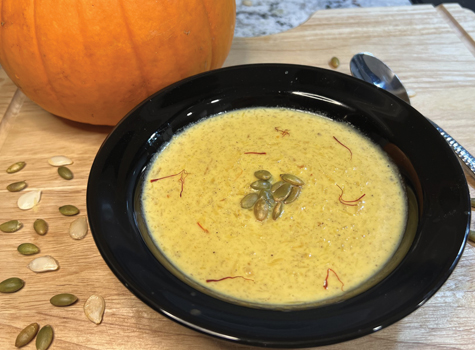 Hi Saathee fam! It is once again one of my favorite times of the year, a time full of family gatherings and lots of delicious food. This month we wanted to add a fun Fall twist to a Diwali classic- kheer, which is a popular South Asian dessert, very similar to rice pudding. While it's typically made with a rice base, to add a bit of "fall flare" we decided to sub shredded pumpkin in as the base, and it did not disappoint! The shredded pumpkin is a very similar texture to the rice and if you decide to add in the extra spices, it takes on one of the best flavors of fall – pumpkin spice! Personally, I believe Fall holidays such as Diwali and Thanksgiving are incomplete without that touch of pumpkin, so now here's another super simple, pumpkin- filled dessert we can add to our tables this year! Happy Diwali and Happy Thanksgiving everyone!
Servings: About 3-4
Prep Time: 15 minutes
Cook Time: 15-20 minutes
Ingredients
4 cups whole milk
2 cups pumpkin (shredded)
2 tbsp butter or ghee
5-6 tbsp sugar
½ cardamom powder
Pinch of saffron
Optional spices: All Spice, Cinnamon, Nutmeg
Directions
Start by prepping the shredded pumpkin. Cut a medium pumpkin into 5-6 pieces, peel, and shred until you have about 2 cups full. Sauté with butter or ghee, on medium-high heat for 4- 5 mins until tender, be careful not to burn the pumpkin. Optional: If you are a fan of a Pumpkin Spice flavor like I am, add in a dash of each "Optional Spice" to the sautéed pumpkin. Set the prepped pumpkin aside.
Next, in a pot on medium heat, bring the milk to a boil then let simmer for about 8 mins. Be sure to stir every 1-2 mins to ensure the milk does not burn or stick to the bottom. Add in the cooked pumpkin and saffron, continue to let simmer for 4-5 more minutes.
Stir in 5-6 tbsp of sugar and let simmer for another 4-5 mins, continue to stir the mixture from time to time. Finally, stir in the cardamom. The kheer is done once the consistency has become slightly thicker. Serve warm or cold and top with nuts. Here I added roasted pumpkin seeds.
Enjoy!