By Taige Shukla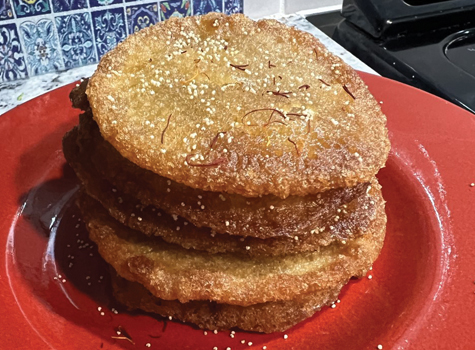 Happy Holi everyone! Sharing yet another classic sweet recipe in celebration of one of my favorite holidays. Malpua is a popular dessert, snack, or sometimes even breakfast food found throughout South Asia, especially during holidays and festivals such as Holi. It's a pancake-like dessert fried to a golden crisp, with a soft, fluffy, syrupy interior. The perfect dessert for welcoming Spring and celebrating the Festival of Colors! There are several ways to prepare malpua, like our version of adding sugar to the batter prior to frying, or like many versions that soak the malpua in sugar syrup after frying, and there are even recipes that incorporate fruit! You can top it with garnishes such as white poppy seeds, saffron strands, or chopped nuts. It's extremely easy to experiment and make this recipe your own, and who knows, it may even become a new Holi / holiday tradition for you and your family!
Special thanks to: Charu Shukla (Amma)
Serves: 10-15
Prep Time: Around 5 hours
Cook Time: 30 minutes
Ingredients:
1 cup roti flour or whole wheat flour
1 cup sugar
Ghee for frying
Optional: White poppy seeds (khus khus), saffron strands, or nuts
Method:
1.       Prep the batter. Start by stirring 1 cup sugar into 3/4 cup of warm water, until fully dissolved. Mix the sugar water into the flour until well combined, the consistency should be like pancake batter and easy to pour. If it's too thick add water as needed. Let the batter rest for about 4-5 hours at room temperature.
2.       When ready to cook the malpua, heat enough ghee in a wide pan at medium-low heat. The malpua does not need to be completely submerged, but there should be enough ghee to shallow fry. You can also substitute oil instead of ghee for frying and add just a few tbsp of ghee (for flavor). Once the ghee is hot enough, add a small ladle of batter to the pan, it should spread into an even round shape. Hint: continuously stir the batter to ensure there are no air bubbles or lumps.
3.       Fry the malpua for about 2-3 minutes on each side. Once the edges become golden brown and bubbles begin to form on one side, flip the malpua and cook for another 2-3 minutes, until both sides are slightly crisp and golden brown. Using a slotted spoon, drain the ghee from the malpua and let cool on a paper towel.
4.       Garnish with white sesame seeds aka khus khus, saffron strands, or your favorite nuts, and serve warm. The malpua should be slightly crisp on the outside and soft & syrupy on the inside.