By Raajeev Aggerwhil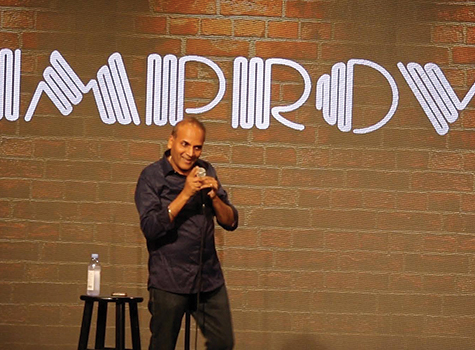 As a comedian, I am always developing new material. In a politically correct environment, we must be extra careful because people have become very sensitive. Growing up in India, I noticed that most humor in real life and in Bollywood targeted individuals with undesirable features – like fat, dark, short, bald or possessing physical or mental handicaps.
The general rule in the comedy world is that it is safe to make fun of anything which belongs to you – you, your family, your own religion, your ethnicity, and your nation. And when it comes to race, the accepted norm is that making fun of white men is fair game for everyone!
I feel fortunate to have a loving family, and to have raised three wonderful children. When developing new material, I like to think back to my kids' childhood, and use those experiences as the basis for my jokes and stories.
One of the stories that comes to mind is from a few years ago when we were living in Burbank, a suburb of Los Angeles. On a Saturday morning, the doorbell rang. There were a couple of cops at our door. They asked if the lady of the house was in the house. I told them yes and had them talk to my wife.
They asked her if she was OK. When she said yes, they told me that there was a 911 call made from our home number.
I was confused but then I realized that I was calling a number in New Delhi from my Vonage phone. The country code for India is 91 and country code for Delhi is 11. The code to make international phone calls is also 011. Instead of dialing 011-91-11 before the phone number, by mistake I must have dialed 911 without the international code. When the call didn't go through, I hung up and got busy with some other work.
The cops accepted the explanation and sat outside our house in their car to write the report. My youngest son, Neil, 13, at that time was into stand-up.
He said, "Maybe I should go out and tell them that it me who had called 911 because my mom was forcing me to eat Indian food – this mushy gooey Aloo Gobhi!" I advised him not to do it. However, we were having pancakes so I told him that he can go out and ask if they want us to have any pancakes. Of course, they said no but the cops did find our hospitality amusing.
Although Neil no longer performs stand-up comedy, he is a natural and is very funny. Last week, he was coming home to Los Angeles from UC Santa Barbara, and he stopped at Vedanta Society's temple on the way. While he was doing meditation outside, he noticed a young white couple with their kids pointing out to him and smiling. Neil said he felt like a monkey in a zoo. We all cracked up. I told him that if he starts doing stand-up again, this is one of the jokes he should do.
My kids provide me with good inspiration for jokes, especially around Halloween. As a Bania, I exaggerate my frugality as someone who didn't want to buy expensive costumes for my kids. I tell the audience that I let my kids make their own costumes. I got them some white sheets and let them decide. The oldest became Mother Teresa, the middle became Casper. The youngest was left with the pillowcase was going as Gandhi.
Some of my jokes also revolve around the entertainment industry. I was fortunate to be cast as Mr. Bored, a boring schoolteacher in Nickelodeon's 100 Things to Do Before Highschool. I let the MC at comedy clubs introduce me with that television credit. Then I explained to the audience that for the audition, I had to speak in a low monotone voice. I nailed the audition without taking any acting classes at that time because I had been married for a long time, so speaking in a low monotone voice came naturally! At the wrap-up party of season 1, I introduced my family to the cast and crew. "This is Mrs. Bored.  Here are my two sons, Fatigued and Disinterested. We left our third son, Energetic at home. He didn't fit the character."
Actually, a few years after the Nickelodeon show, my wife and I took acting classes. We were very much into it. She liked method acting. She was playing the role of an angry wife. The other actors won't leave their character until the show is over. My wife won't leave character until the marriage is over. For scene rehearsals, I gave her the script of Gone with the Wind only so that I could say the line, "Frankly, my dear, I don't give a damn!" In this joke, my wife is the target victim. When I perform, I make sure I don't have too many jokes about her, and the jokes are based on our marriage. She does make fun of me for being cheap and absent-minded, which is fine.
When we post short clips on Instagram (@raajeevcomedy and @IndianComedyCouple) and on our YouTube channel (youtube.com/c/raajeevcomedy), our goal is that much of the time, my wife has the upper hand or gets the last laugh. In a politically correct and emotionally charged environment, comics must be extra careful choosing the victim or the target of jokes. The safest choice in choosing your joke victim is yourself, and then your family. So far, I have not heard any complaints so we must be doing something right!
---
Raajeev Aggerwhil is a Los Angeles-based comedian. Follow him on Instagram @raajeevcomedy or @IndianComedyCouple. To see his videos on YouTube: youtube.com/c/raajeevcomedy.