By Samir Shukla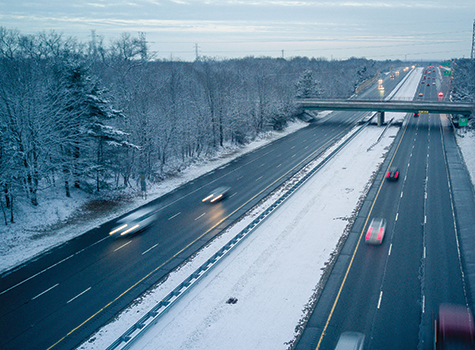 Riding in a car on a snow dusted highway, in mid-January, I gazed at the blue grey sky above, while the highway passed below. The distant hills were a mix of white and dirt brown, leafless trees mingled with a few patches of evergreens. It had snowed a day earlier, not a heavy snowfall, but one that splattered white dustings on the surroundings.
I dozed off while sitting in the back seat. The moving scenery on either side of the car lulled my heavy eyes into slumber. The past, present and future all swirled in my brain while the hum of the car engine and the passing drone of the road dropped me into an instant dream. It began as a blend of semi-sleep and thoughts squirming around in my head, then a story unfolded, compressed into a short sleep. The car became a moving music venue accompanying the hazy dream.
A classic Lata Mangeshkar song played in my mind. I had heard it and hummed it hundreds of times in the past, much like many of her songs. It suddenly emerged from memory and soundtracked this dream. The song was mellow, filled with love and longing, and made me feel warmer.
While the song played and the dream unfolded, on this drive from Atlanta to Charlotte, I was transported to a city on a distant planet, one eerily like our own blue ball. It was full of madmen and wisemen, complainers and doers, a sort of genderless blend of humanoids going about their business. In this dream they were mingling in a most happy manner.
They had emerged from a planetary emergency, of a biological sort, and now they were somehow messaging me through the dreamworld that their lives were returning to normal after a long spell.
They were making music in their own segment, while Lata sang in mine. They conveyed their joy and their story.
The car hit a pothole and bounced. I awoke to the sound of an NPR station, fuzzy because of the distance from the signal's origin, bringing me back to groggy reality. I was back on Earth, a planet with its own global bug, now seemingly and finally coming under common sense control.
Let's mingle, gather at music venues, theaters, and meeting halls, all wide open, and join others where they gather. We must. The freshness of springtime, a new era, is also just around the corner.
We can touch, gaze eye to eye, sing, meet, to argue and to love. It's a new era and we have lives to live. Most of us did our parts for months and months, isolating, worrying, sanitizing, and re-breathing our own breaths behind masks. Now it's time to simply practice common sense risk management, much as we do for any number of bad outcomes we face on a daily basis. It's time to move on.
Lata also moved on from her physical life, leaving us a vast collection of eternal music, as she passed away a couple of weeks after my highway dream.
Lata's song in the dream may have been a personal message to me, and a parting message to humanity. I sing that song from the dream again today, "Lag jaa gale ke phir haseen raat ho na ho…"
She sings that it is time to make a move, tonight, meet in a warm embrace, lest this beautiful night, in essence life, passes us by.
Note: Goodbye Lataji
When growing up in India, and then later in the States, music on the radio, played live, on tape recorders, records, CDs, streaming, has always been there in our lives. Dad played and still plays music on keyboards and harmonium. Mom used to choreograph kids for dance performances. Indian film songs were a constant. Lata, along with Kishore, Rafi, Mukesh and all the classic Indian film singers' songs were etched in our minds with melodies and words that stay with you like a trusted friend.
Lata's unique voice was among them.
She wrote on her Twitter feed on December 16, 2021, in Hindi: "On 16 December 1941, I sang two songs for the first time in the studio for radio after seeking the blessings of my parents. It has been 80 years today. In these 80 years, I have received immense love and blessings from the people. I believe that I will always keep getting your love blessings."
Yes, you will.
India's renowned singer Lata Mangeshkar passed away on February 6, 2022, at the age of 92.
---
Samir Shukla is the editor of Saathee magazine. Contact – [email protected]