By Jennifer Allen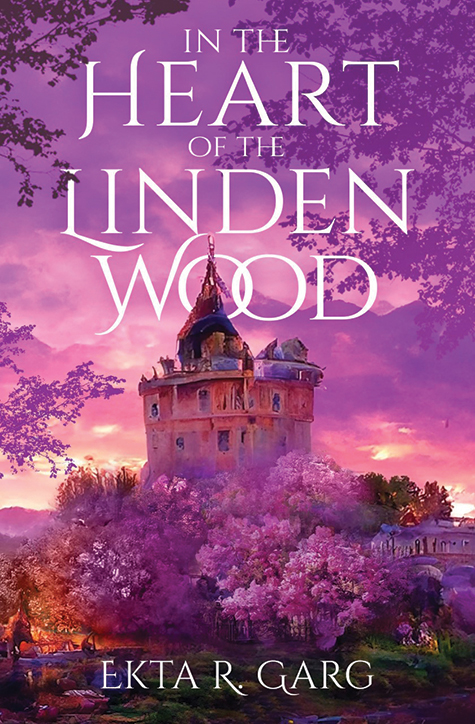 After reviewing author Ekta R. Garg's previous Christmas-themed novella, The Truth About Elves I was all but elated to hear that she has published a new story set within a more fantastical setting.
Her particular style of prose leans itself to exploring a character's personal thoughts and draws you in to understand more of who they are.
As The Truth About Elves focuses primarily on one protagonist, In the Heart of the Linden Wood progresses the tale through several important characters including a King, Councilwoman, Woodsman, Healer, and the Healer's son. Through the unique perspectives of each, Garg provides the reader a glimpse not only into their individual motivations, but also various observances about the others as well.
"All of us have experienced the searing pain of betrayal by someone we once trusted. A friend who knew our deepest secrets. A guardian who vowed to nurture us. A love who promised us the sky above the sun and the dust between the stars."
The story opens with a confession from someone known simply as "The Keeper"; an admission of pain and heartbreak over the betrayal of a man… a royal prince of Linden named Vincent. The portrayal of this man is not kind, as he is personified as a spiteful, greedy, and distrustful by nearly all his peers.
However, we focus instead on his son Christopher who received most of his father's ire and abuse until a fateful "hunting accident" thrusts the boy to take Vincent's place upon the throne. We then learn of Christopher's beloved wife, Lily, who is moments away from birthing their first child. Unfortunately, the procedure leads to tragedy and neither the queen nor the baby survives.
Such news causes Christopher into a downward spiral of grief with rage that occasionally mirrors his father's own. Such remorse is felt throughout all the characters, as the queen was highly regarded as kind, generous and supportive to many.
The Healer Geraldine who served as Lily's midwife is the first to bear the brunt of her king's anger, dismissing her from her healing practice for (in his grieved state) not saving his wife nor their child. Over the course of our tale, we learn of her determination and intelligence as she continues her work in secret.
At least… until a series of cascading circumstances lead both to team up with her son Alistair and his Guardsman Martin to partake upon an urgent quest to save the kingdom's forest, housing a special wood prized throughout all the kingdoms, from slowly dying out.
As with most "quest stories" the prose then beckons us in to observe and experience the characters' journey rather than just their ultimate goal. While the narrative is chiefly about King Christopher's gradual shift to become a better ruler and more confident person, we're also privy to the thoughts and motivations of everyone around him. Geraldine becomes especially important for these changes to occur, and in turn she learns a bit more about Martin, her son, and even herself in the process.
As with Garg's previous work there is a twist or two to look forward to. Also, the actual quest doesn't begin until roughly halfway through the book which can make all the buildup beforehand a bit of a slog to read through. Stick with it, though! By the end it all becomes worthwhile and as with all fairy tales… leaves the reader elated with hope and… a happily ever after.
This is Ekta R. Garg's second fiction release, and first full-length novel. She also works as an editor, writing contest judge, and offers writing workshops on her podcast, Biblio Breakdown.
---
Jennifer Allen works at Saathee and is also a Podcaster, Blogger, Photographer, Graphic Artist, Gamer, Martial Arts Practitioner, and an all around Pop Culture Geek. You can reach her at [email protected]