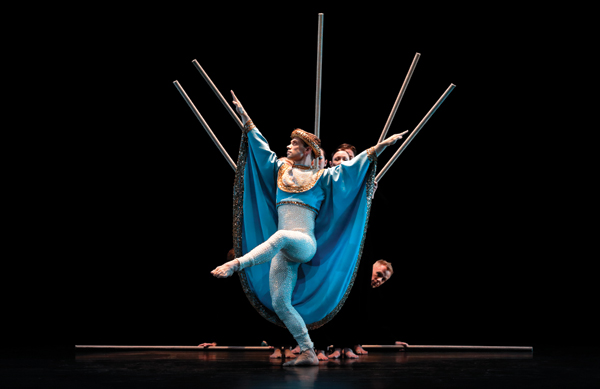 In my last column, I reported on the beginning of the 84rh annual American Dance Festival (ADF). By the time this article is published, the festival, which runs June 3-July 29, 2017, in Durham, NC, will just have finished. This year's festival featured 71 performances by 30 companies and choreographers from around the world.
Bill Young / Colleen Thomas & Co. performed a single dance called Interleaving that was a composite of four dances with intriguing titles Wall Unfolding, Music Minus One, Double Bill, and Sambosamba. Bill Young is a recent winner of both Guggenheim and New York Foundation of the Arts Fellowships, and was born and raised in Durham, NC. His wife, Colleen Thomas, an Associate Professor at Columbia University, started collaborating with Bill Young in 1997. Both choreographers also danced in Interleaving.
According to ADF, their dance has been described by the New York Times as, "a busy tapestry of focused, flowing movement… like an activated Jackson Pollock painting" and I think I see that in the sixties-pop style costumes and modern dance sensibility. I left finding the dance inviting but perhaps too short, invigorating but needing more, even a second dance, to help me coalesce an informed opinion. I would like to see more by this team.
Paul Taylor Dance Company and Pilobolus are "regulars" at ADF and, for many, their performances are the highlight of each ADF season. This year is no exception.
My daughter and I enjoyed both the Saturday (July 1) matinee of Pilobolus, as well as one of their evening programs. Pilobolus is named after a fungus that spouts material at the unbelievable human equivalent of 100 times the speed of sound. The group is, if nothing else, fun – like many other dance troupes, they execute amazing acts of athleticism while making it look easy, but they also put a special focus on delight. I encourage readers to do an internet image search of Pilobolus to enjoy their beautiful and often witty, as well as seemingly impossible forms that they put themselves into.
At their matinee, they performed two new 2017 dances, Echo in the Valley and Branches. The latter, which just premiered on June 21st, is set to the sound design of master percussionist and experimental musician David Van Tieghem. During the discussion after the performance, they mentioned that the piece was first performed outdoors; its bird call sounds actually attracted birds! Branches, through both sound and dance, evoked a suite of animals in a forest, and was a joy to experience.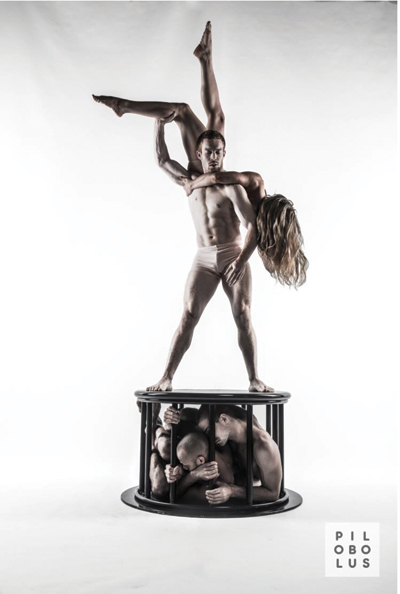 Pilobolus invited renowned banjo player Béla Fleck (of the Flecktones) to collaborate on a piece. Also in discussion afterwards, we learned that the meeting went well, and included Bela's wife Abigail Washburn, a fellow banjo player with a beautiful voice, to result in the collaborative piece Echo in the Valley. As the banjo players played and Washburn sang with pathos, a heart wrenching story of the difficult life of coal miners and the death of a miner's wife unfolded. It was only when I saw the piece a few hours later in the evening performance did I fully connect the headlamps of the dancers with the fact that they were portraying miners, looking here and there through the haze, pointed lights often boldly shining out on the audience. I was impressed by the tight collaboration, as if Pilobolus and the duo had worked together regularly – everything from the instrumentation and vocals to the lighting design and choreography worked for eerily effective narration. This piece was well worth experiencing twice – and, luckily for me, in quick succession.
Both pieces, as well as three additional dances, were repeated in the evening. The first, On the Nature of Things, featured operatic singing and the music of Vivaldi. A trio unfolds a fragile, sensuous dance, inviting speculation on the interconnection and beauty of human relationships.
Pilobolus' was perhaps more of an athletic and humorous magical show than dance – but then, what really does the term "dance" mean? Groups like Pilobolus broaden one's conception of what dance is. I've seen this fascinating dance before; made in collaboration with magicians Penn & Teller, dancers are put in strangely contorted situations and make their way out to freedom. As an example, an airline traveler is directed by airport security to travel stuffed into an overhead bag – he does and somehow later emerges changed into pajamas.
Finally, Rushes was a unique dance with chairs – and a suitcase. Plain white chairs form more than a prop – they often encircle the dancers. What amazed me most about the dance was not the perfection of the human forms – a high standard, for sure, but one that comes to be expected with ADF troupes. Rather, I still can't understand how the dancers would move the chairs while keeping the chairs apparently ideally aligned. I have seen this performed before and would like to see it again and again – the somewhat absurd theatricality will no doubt either become more meaningful or truly free itself from the matrix of interpretation with additional viewings.
My daughter and I were lucky enough to see all three performances by the Paul Taylor Dance Company (PTDC) Friday and Saturday evening shows, and a Saturday matinee. I am delighted when I find that a troupe with a depth of work like that of PTDC chooses to perform different dances at each performance, as was the case for the July 7 and 8 shows. What draws me to their repertoire is their strong ballet tradition with appeal to both traditional and contemporary dance audiences.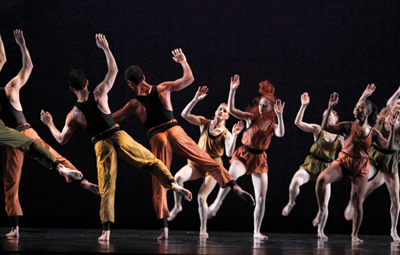 Friday night consisted of three dances, each separated by an approximately 15-minute intermission. Having two intermissions and, for Friday, a post-performance discussion, allows one to really sink in and absorb the artistry and build one's interpretations. Saturday evening also had three dances. The 1987 dance Syzygy was included in both, performed last. I reviewed this dance last year; this year, on Friday night, I gained more appreciation for it by enjoying it after Rush Hour, the penultimate dance and one not choreographed by Taylor but by Larry Keigwin.
Both of these dances are characterized by fast and energetic minimalistic music. Rush Hour's score, composed by Adam Crystal, reminded me of the music of Philip Glass, especially near the end. The music of Syzygy, composed by Donald York, is a bit more consistent in energy. I was touched by the commonality and variability of these two dances. In the first, sixteen dancers personify the anonymity of big city life. Bursts of energy are shown as meaningless, disconnecting the dancers and even causing aggressive interaction, resulting in a near fight near the end.
On the other hand, there is joyful energy in Syzygy. The busy-ness of the dancers is now a productive one and each, while still exploring their own individuality, are clearly influencing each other and creating a dance that reflects a synchrony of the individual creativities, though there is a touch of competitiveness in the end. I found this juxtaposition fascinating – how could dancers sustain the physically fast and precise choreography but, perhaps more so, how could the very different psychological import of each piece be divided merely by a 15-minute intermission? I asked this question in the post-performance discussion and enjoyed the feedback from the dancers.
Friday's first dance, Cascade, featured very different music, concertos by Bach. It was an elegant dance with a dozen dancers in black costumes and what I think of as more traditional PTDC, though Paul Taylor has created well over 100 dances and no one dance of his really is emblematic of one particular style.
Book of Beasts, performed at both the children's matinee and on Saturday evening, was a delightful and playful romp reminiscent, to me, of Maurice Sendak's maybe-horrible-but-actually-nice monster tale, Where the Wild Things Are. The costumes are bright and evoke laughter, and the use of props like sticks are well done, though some of the geometries thy create turn out to be much better appreciated when sitting near the center, as I found from my two different vantage points at the two shows. The music included well-known compositions, such as by Tchaikovsky and Saint-Saens.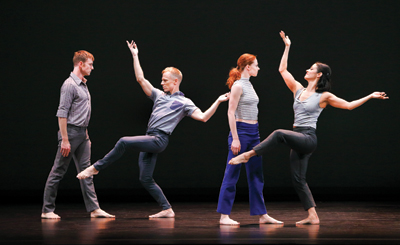 The penultimate dance on Saturday was The Weight of Smoke, choreographed by the dancers in collaboration with Doug Elkins, a pioneer in incorporating hip-hop and martial arts with ballet and modern forms. I don't listen to much sampled music so still find it rather interesting when it seems done to a high standard (to my novice ear). The music included original music and excerpts from Handel; toward the end, some Indian-sounding music was also mixed in. The dance clearly had hip-hop influence and an impatient ever-changing but not self-important demeanor of dancers almost trying different things, then scurrying off backstage to return often in the guise of a different persona.
All in all, Paul Taylor Dance Company always delivers solid performances. That said, I miss some of the more "classic" dances akin to Cascade, such as Arden Court and, perhaps my favorite of theirs, the utterly joyful Esplanade.
Each year, ADF presents the ADF Musicians' Concert. Putting on the Festival requires not just dancers and choreographers, but also students and teachers of the ADF school, and the musicians who compose and play for the six-week school's classes. For the past few years, this concert has been held at the beautifully redesigned Baldwin Auditorium on the Duke East campus, where many ADF students reside.
I enjoy attending this relaxed event matched by a modest admissions price. A variety of musical styles, such as African rhythms, electronic dance music, Baroque, patriotic Americana, and mid-1960s soft pop rock, were presented at the concert on July 2nd. I like the energy of this event, as well as that of the upcoming (as of press time; July 16 is the scheduled date) Faculty Concert. If I were to criticize, I would simply observe that both play to enthusiastic "in" crowds with many ADF students who cheer the moment as much as they applaud the talent.
At press time, there still were several weeks of performances left in this season of ADF. Full details about ADF are available at americandancefestival.org.
Note: Photographs and American Dance Festival logo and schedule courtesy of American Dance Festival and used with permission.