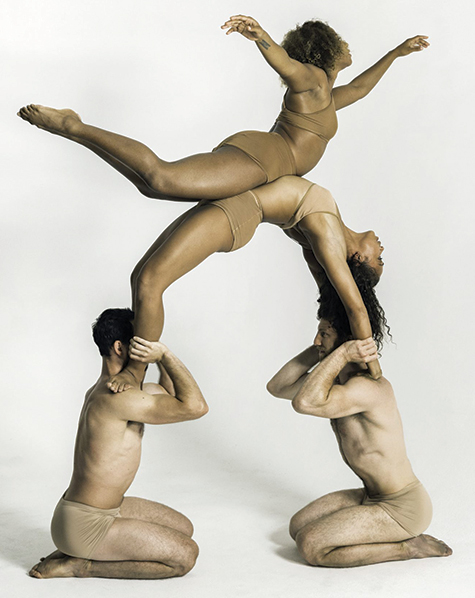 One of the many downsides of the pandemic was that the 87th annual American Dance Festival (ADF), the country's biggest contemporary dance festival, did not occur in 2020. I received great news in late July that in September there will be a program held outdoors at Raleigh's NC Museum of Art called "Together We Dance" that will bring some big and important names to dance lovers.
From September 9-16 this all-outdoor festival will be held at the Joseph M. Bryan, Jr., Theater in the Museum Park. Executive Director Jodee Nimerichter shared, "after a difficult year and a half, we are thrilled to bring the community together again at our first-ever outdoor festival for eight performances by some of the finest dance companies dazzling audiences today."
The first company is Kyle Abraham (September 9) premiering the "Nina Simone Suite" (working title) with a series of solos and duets set to Nina Simone's music. On September 10 and 11 will be the always crowd-pleasing Pilobolus with seemingly impossible body contortions sharing exciting and fun stories. They will be performing the high-energy "Megawatt" that I have seen and always loved numerous times, as well as "Shizen", "Walklyndon", and "The Empty Suitor".
On September 12 the 1988-ADF commissioned State of Darkness, "an intense 35-minute solo… of relentless fervency, technical precision, and fearless abandon… [that] challenges Stravinsky´s cacophonous Le Sacre du Printemps (The Rite of Spring)" will feature Annique Roberts of Ronald K. Brown/EVIDENCE at 3:30p and Michael Trusnovec formerly of the Paul Taylor Dance Company at 7:30p. Three incredible 'Bessie" nominations were just received related to the production and cast. The production itself was nominated for Outstanding Revival, Trusnovic for Outstanding Performer in this production, and Roberts for Sustained Achievement with Ronald K. Brown/Evidence.
Other performances are by Reggie Wilson/Fist and Heel Performance Group, BODYTRAFFIC, and the unequalled Paul Taylor Dance Company. PTDC will perform several pieces including "A Field of Grass" "with songs sung by Harry Nilsson, a dance evoking America in the 1960s where a central character experiences love, drugs, rebellion, and hope through his counterculture", as well as "Duet" and one of my favorites, the lush "Esplanade".
I had a few minutes to sit down with Jodee Nimerichter for a short interview. Here is what she said.
Dilip: I'm excited about the mini-season! Can you share any inside tips about enjoying ADF at NCMA?
Jodee: I hope audiences will come out and enjoy live dance again in the community of others. Our hope is that this outdoor performance series will provide a safe way for artists and audience to finally enjoy the power and joy of dance together again. I think the sharing of an art experience is magical, I invite everyone to come and experience ADF like you have never experienced it before!
Dilip: Can you share one exciting sentence about each troupe that is coming?
Jodee: What I would prefer to share is that each company is bringing an exciting program of works that are sure to delight and entertain and allow for reflection and possibly transcendence. Each program is incredible and I would encourage folks to not only come see their favorite companies but try something new. You have a chance to experience new works commissioned by ADF for this season, classic works that can be seen over and over again, and restaged work that continues to be relevant. This ADF season features a range for artists including those in the early stages of their choreographic careers to those who are legendary.
Dilip: It's of course very early but are your hopes to have a "normal" season of ADF in 2022?
Jodee: I hope ADF keeps dancing; what the festival looks like isn't as important as what it does to support modern dance. In 2022 perhaps we will resemble more what we looked like in 2019 and that could be great. But with change, good or bad, one needs to make sure they find opportunities. I think this season is a perfect example of that!
Dilip: Would you like to share anything else with our readers?
Jodee: We encourage families to bring their kids to experience live dance. With the purchase of an adult ticket, kids (6-17) can come free! What are you waiting for? Get your tickets and come out for ADF's 2021 season!
Details: AmericanDanceFestival.org