By Taige Shukla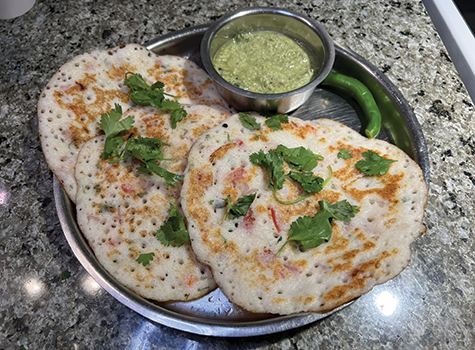 Hi Saathee family! We're back with another classic recipe, courtesy of my Amma (Grandma Shukla). This time we're heading to South India with uttapam; the perfect light bite to close out the summer. Although typically considered a breakfast dish, it can really be enjoyed any time of day with your go-to chutney and favorite vegetables or toppings. This is a recipe you can easily make your own and, once the batter is prepped, will only take about 20 minutes to cook! Hint: you can make extra batter to freeze and save for later. When you're ready to use it, simply let thaw at room temperature until it's a pourable batter again. Uttapam falls in the same family as idli and dosa, two more classic South Indian dishes, all of which use similar rice + urad dal batter. The main difference is the cooking method. While idli is steamed, dosa (thin and crispy) and uttapam (pancake-like) are pan fried. All three can be served with coconut chutney, sambhar, or even potato masala. So, one batter = three dishes, whether you choose to make it from scratch or buy instant mix. This time around, give the veggie-filled uttapam a try; it's packed with flavor and nutrients and sure to be a family favorite.
Special thanks to Amma (Charu Shukla)
Ingredients
1 cup urad dal (aka split and husked black gram)
3 cups long grain white rice
Optional: replace the above ingredients with 1 cup rava (instant idli mix)
2 tbsp yogurt (aka dahi)
1 tsp methi (fenugreek seeds)
Eno (fruit salt)
Choice of finely chopped veggies, here is what we used:
1-2 Roma tomatoes
½ small red onion
1 small carrot
½ cup cilantro
Optional: 1 small green chili (for spice)
Directions
For Batter:
– Soak and prep ingredients. Start by rinsing the urad dal 2-3 times and rice at least once, combine both in a bowl and soak in clean water for at least 5-6 hrs.
– After 6 hours, pour out water and add the dal + rice mix to a blender, along with 2-3 tbsp of yogurt and ¾ tsp salt. Blend until well combined, if too thick add in a bit of water until you get a pancake batter consistency.
Add batter to a bowl and mix in methi seeds. Cover and let ferment at room temperature for another 7-8 hours.
– Hint: if methi seeds have not dissolved into the batter, add the mix back into blender and blend until smooth.
Optional: For a quicker version of the batter, combine 1 cup of rava (aka sooji or instant idli mix) with 2 tbsp of yogurt and salt in a blender and mix until you achieve a pancake-like batter, adding water as needed. Let rest for at least 20 minutes.
For the Uttapam:
– Prep your veggies of choice. Ensure each ingredient is finely chopped, including the cilantro, and set aside. Hint: if you like a bit of spice, add in diced green chili.
– Start with ½ cup batter, mix in a pinch of Eno and ½ tsp water, stir until well combined. Topping option 1: here you can mix in a portion of the chopped veggies to the ½ cup of prepped batter.
– Next, add a bit of oil to a skillet on medium heat and ladle the ½ cup prepped batter onto the center. – – Spread in a circular motion until a round pancake is formed, sprinkle a bit more oil on top and around the edges. Cover and let cook for about 2 mins, or until bubbles begin to form.
– Topping option 2: instead of pre-mixing the portion of veggies into the batter, you can choose to spread them on top of the batter once added to the skillet.
– Once the bottom portion is golden- flip, cover, and let cook for another 2 mins, until cooked all the way through. Repeat steps 2-4 for the remaining batter, evenly dividing the veggies between each ½ cup of batter. Serve warm with coconut chutney or favorite sauce.
---
See highlights of making this delicious dish on Instagram!
https://www.instagram.com/reel/CxGMXnpOwUq/?igshid=NzZhOTFlYzFmZQ==